Top 10 chick flicks to watch this Halloween
Break out the pumpkin candles and curl up in front of the t.v. with you-already-know what kind of latte, because Autumn is here! To celebrate I picked out a few of my Halloween favourites with strong female leads -- because who doesn't love a good ol' Halloween marathon?
Top 10 chick flicks to watch this Halloween - CLICK TO TWEET
1. SUGAR & SPICE
Cheerleaders gone criminals. When one teen faces some life-changing test results, her five best friends are there to support her -- no matter what. It's the classic story of the high school popular clique, plus a little criminal behaviour. It isn't your average festive movie with witches, black cats and magic -- but six bi-polar personalities and illegal betty doll behaviour are bound to get you in the Halloween mood.
2. BEETLEJUICE
.. Beetlejuice, beetlejuice! Should I even write more? I think we can all agree this is when we first fell in love with Winona Ryder. Ever since, she has been the epitome of Halloween-related movies and as of 2016, even shows. Ryder plays a sensitive and isolated teen named Lydia Deetz. Fascinated by the supernatural, she takes an interest in her home's previous owners while Beetlejuice takes an interest in her -- with plans of marriage. Watch this to get a good laugh at 90s animation in live action films, and bask in the dry humour.
3. THE CRAFT
Witches, spells, curses and four best friends -- Halloween doesn't get more girly than this. Fairuza Balk -- you might remember her from the Waterboy -- plays Nancy Downs, the mean-queen of all things supernatural and horror. It follows the story of the new girl in class falling into the hands of social outcasts, and getting mixed up in some pretty serious witch stuff. I mean, what else would you expect at a Catholic high school -- prayer?
4. JAWBREAKER
When a prank goes horribly wrong, three teens are left with their best friends body to cover up a murder. Rose McGowan plays Courtney, the second in line for the title of Miss Popular. When her best friends dies in the trunk of her car, Courtney takes it upon herself to replace her -- literally. This isn't technically a Halloween movie, but it's girly, people die and things get pretty twisted - so what more could you ask? This movie mixes Mean Girls and the Craft to create a distorted, yet funny chick-flick you've got to watch this month.
5. EDWARD SCISSORHANDS
If you're a 90s kid with older siblings, there's reason to believe that this [or Beetlejuice] was your favourite movie at one point in your life. Again, Winona Ryder plays the lady boss role in this 1990 drama/romance film as the teenage daughter of a kind sales woman -- taking Edward into their home after years of isolation. This movie mixes the traditions of Halloween flicks with romance, so don't forget the tissues. I mean what's more romantic than a worrisome weirdo with scissorhands crafting beautiful bushes and ice sculptures am-I-right?
6. THE ADDAMS FAMILY
If you don't think Wednesday Addams is a bad b!*$& then have you even seen the Addams Family? She hates everything, has no time for losers, and isn't afraid to tell it how it is -- basically she's the poster child of female behaviour. She's extremely mature for her age and a power-enthusiast. In other words, she doesn't let any one tell her what to do or how to do it. Wednesday is the perfect Halloween example of a #LadyBoss.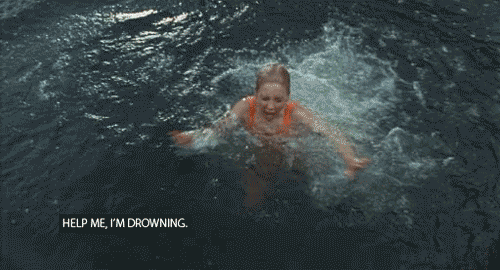 7. THE WITCHES OF EASTWICK
Prepare yourself for corniness -- Cher, Susan Sarandon and Michelle Pfieffer play three small-town friends who live boring small-town lives. Each having lost the love of their life they wish for the perfect man, and *poof* he appears. Following the story of three woman dating their ideal match, the witches overcome male empowerment and join forces to create something bigger and more powerful than they ever thought possible. With voodoo dolls, spells and crazy big hair, the Witches of Eastwick is the ultimate lady boss Halloween flick.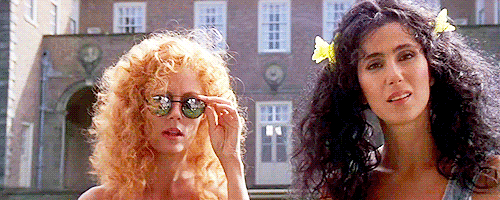 8. STRANGER THINGS
You probably already binged watched this show over the summer, but in case you didn't find the time this is the perfect addition to your Halloween list. There's literally nothing more Halloween than Winona Ryder -- that should be reason enough -- but you'll also love Eleven. This suspenseful story takes you down the path of losing a friend and finding a girl with mind powers. Disclaimer: this show will 100 per cent make you crave eggo waffles. Be prepared.
9. AMERICAN HORROR STORY: COVEN
This was the best season to date and I could watch it over and over again. Obviously witches are the girliest thing about Halloween so it's a must-watch. Emma Roberts takes on the mean-girl role with vanity and profanity at the heart of her character, while each episode unravels more fashion, romance and of course mystical witch drama. Oh, and Stevie Nicks may or may not appear to serenade you, so there's that.
10. HOCUS POCUS If you haven't seen this movie then you. are. missing. out. Period. Your heart will most likely explode with cuteness, corniess and tonnes of fan-girling because Sarah Jessica Parker plays a blonde dumbie and has a witchin' singing voice. It's the perfect movie to end with and build anticipation for all of the Halloween festivities to come!
How to make this the perfect binge-watching list? Pumpkin pie, duh. Life's too short to be anything but scared - use this guide and enjoy some Halloween favourites. These ladies may be a little twisted, but they're bound to motivate you in one way or another. Enjoy!
#Fashionista #FashionBlog #Romance #Comedy #Movies #BossGirls #Festive #Aesthetics